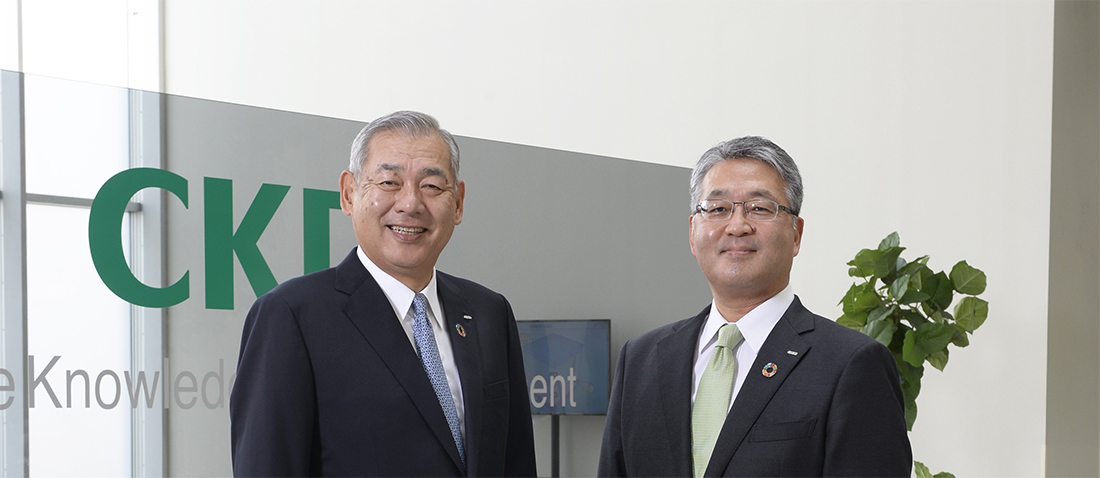 Representative Director, Chairman of the Board and Chief Executive Officer Kazunori Kajimoto(left)
Representative Director, President and Chief Operating Officer Katsuhito Okuoka(right)
CKD was established in 1943 as Japan Aircraft Electric Co., Ltd.. In 1945, the company was renamed Chukyo Electric Co., Ltd. and started manufacturing and selling automatic machinery such as vacuum and fluorescent tubes.
Thereafter, the Company has worked on a wide range of FA equipment, including pneumatic and fluid control equipment, and now customers in various industries in Japan and overseas use CKD products to support manufacturing sites.
In recent years, people's awareness of the global environment and social issues has increased rapidly, and corporate social responsibility has become even more important with the significant changes in their previous values.
Amid such changes in people's lives and society, CKD will respond to the new normal and contribute to the global environment and society through its business activities in order to "Cultivate a healthy global environment and a prosperous future" set forth in our philosophy.
We are pleased to announce a new system of the CEO and COO. We will work to strengthen our management base with the new structure to enable sustainable growth as a sustainable company. We look forward to your continued support.