Long-Term Management Vision
10-Year Vision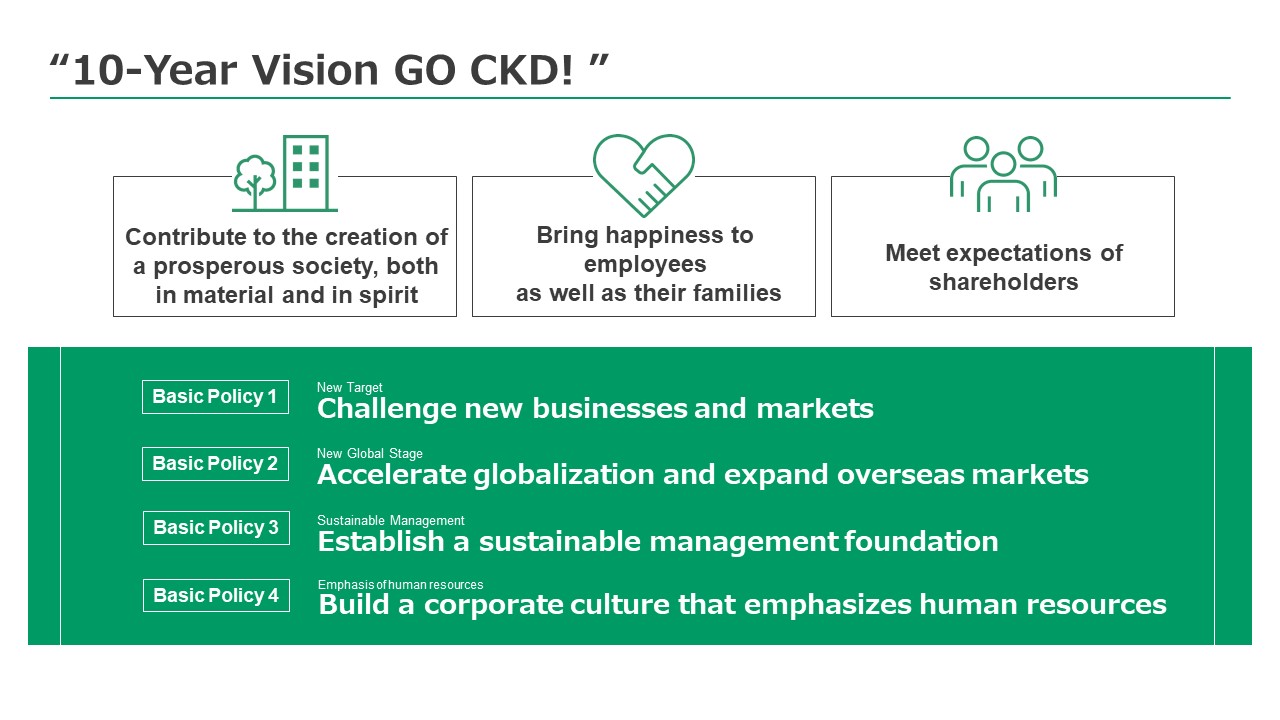 Medium-Term Management Plan
Build-up CKD 2021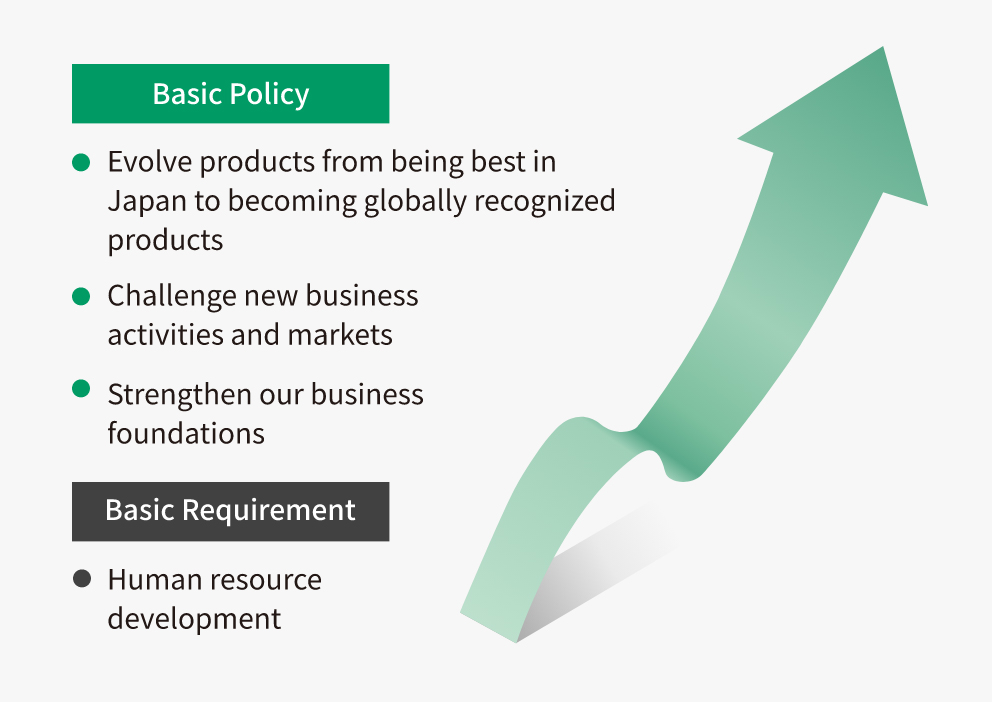 Geared toward the achievement of our 10-Year Vision, the Fourth Medium-Term Management Plan, which began in April 2019 and is called Build-up CKD 2021, is designed to build the foundation that will lead to the future of the Company while growing strongly for three years. Utilizing the newly introduced core system at the new plant in Tohoku and the new production building in China, we will promote activities to raise productivity. To form the core of our activities, we have adopted three basic policies: evolve products from being best in Japan to becoming globally recognized products; challenge new business activities and markets; and strengthen our business foundations. Believing that human resources are most important for the Company's continued development, we will develop strategic and systematic human resource development while creating environments in which national staff members can play active roles.
Basic Policy 1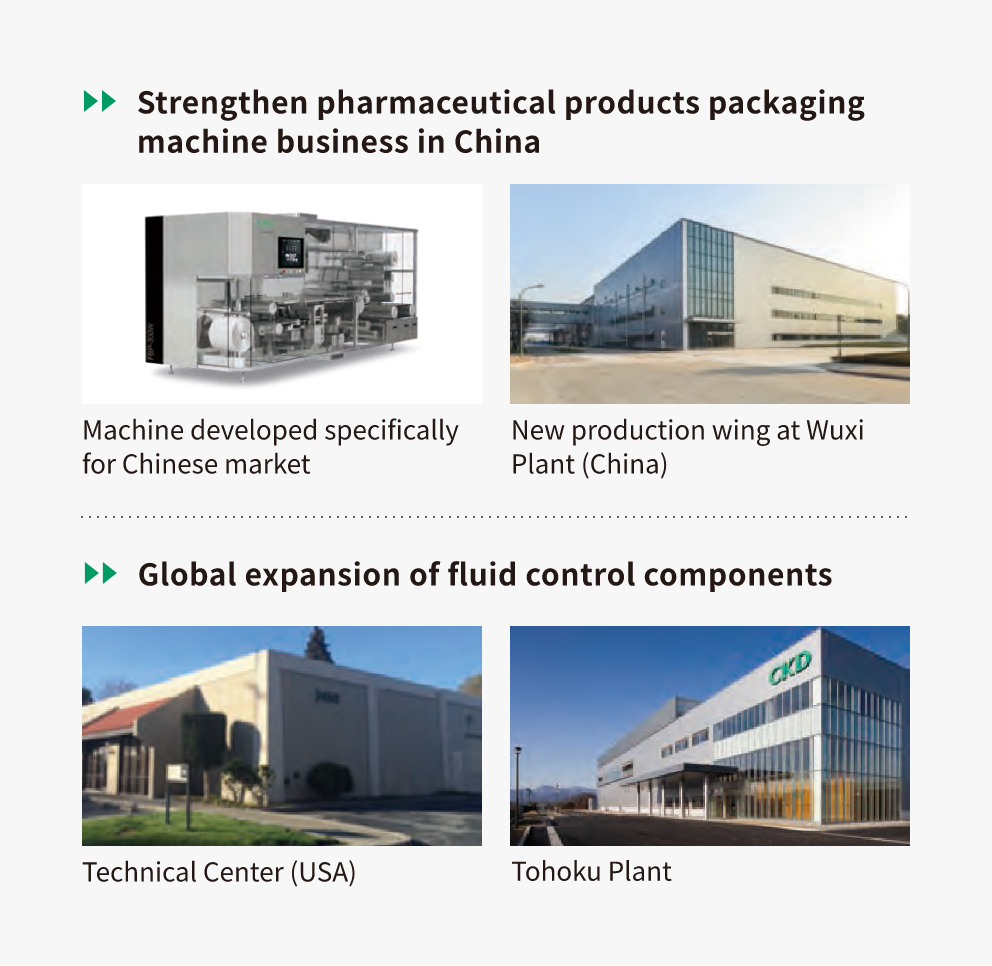 Evolving our products from being No. 1 in Japan into globally recognized products
Our aim is to venture into overseas markets with our distinctive products, which enjoy major market share in Japan, and evolve them into top global products. The Automatic Machinery business is working on the development of automated pharmaceutical packaging machinery exclusively for the Chinese pharmaceutical market and on making the best use of the China Plant's new production wing, with the aim of expanding our core pharmaceutical packaging machinery in the Chinese market. In the Component Products business, we will roll out fluid control components not only in Japan but also to the world with the full-scale commissioning of the Tohoku Plant. In the United States, we will enhance the functions of the Technical Center to promote planning and development of customer-oriented products. In the European market, where our competitors are ahead of us, alliances are an effective measure, so we will actively pursue such alliances. In these ways, we will deploy products and strategies to suit individual regions and countries and promote activities that are rooted in the local community, while factoring in the culture and people of those countries.
Basic Policy 2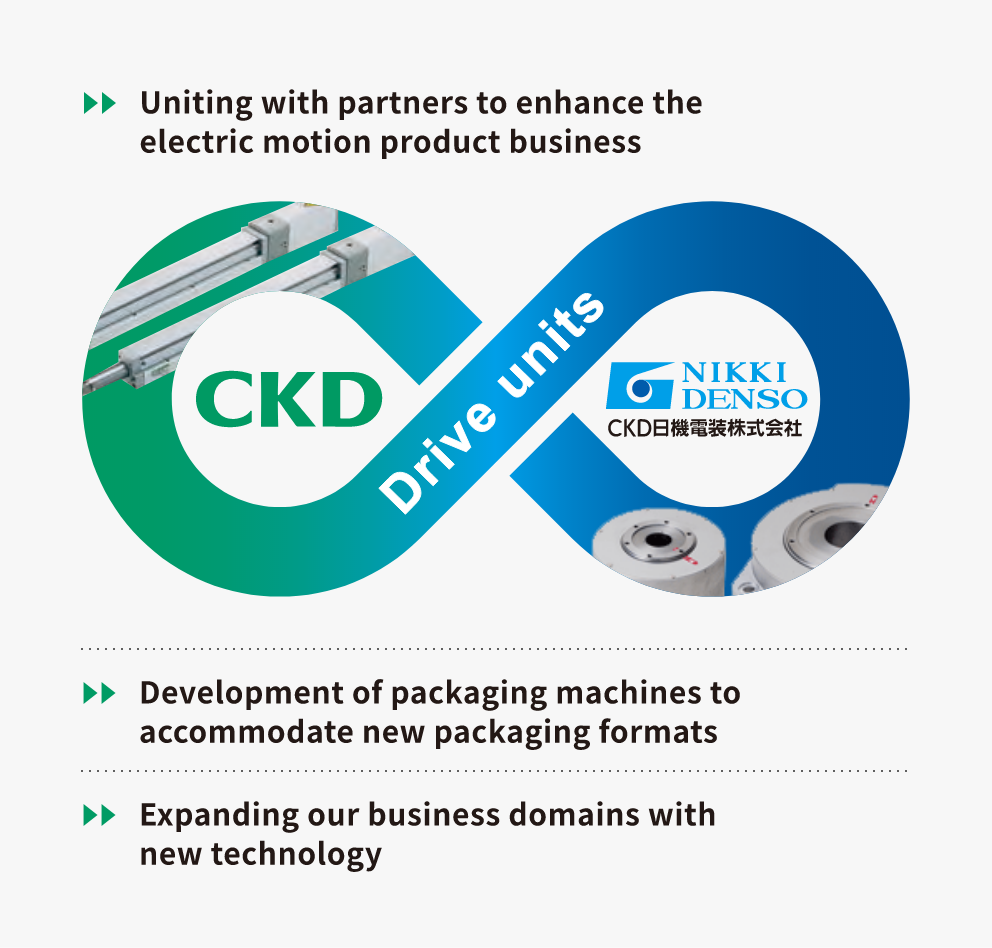 Challenge of new business activities and markets
We will take on various challenges with the aims of launching new businesses and opening up new markets.
The new business we are concentrating our efforts on the most is the electric motion product business. Pneumatic components and electric components each have their own distinctive features. The former are compact and powerful, while the latter enable arbitrary position control with high accuracy. With our extensive range of both pneumatic components and electric components (linear and rotary), we are able to meet a variety of customer needs. To enhance the electric motion product business, we will use the expertise we have accumulated through pneumatic components and leverage our development and sales synergies with CKD Nikki Denso Co., Ltd.
We will contribute to the enrichment of society with new technologies, such as the development of machines that accommodate new packaging formats for the food industry and assistive devices (powerful arm) to realize safe and comfortable working environments.
Basic Policy 3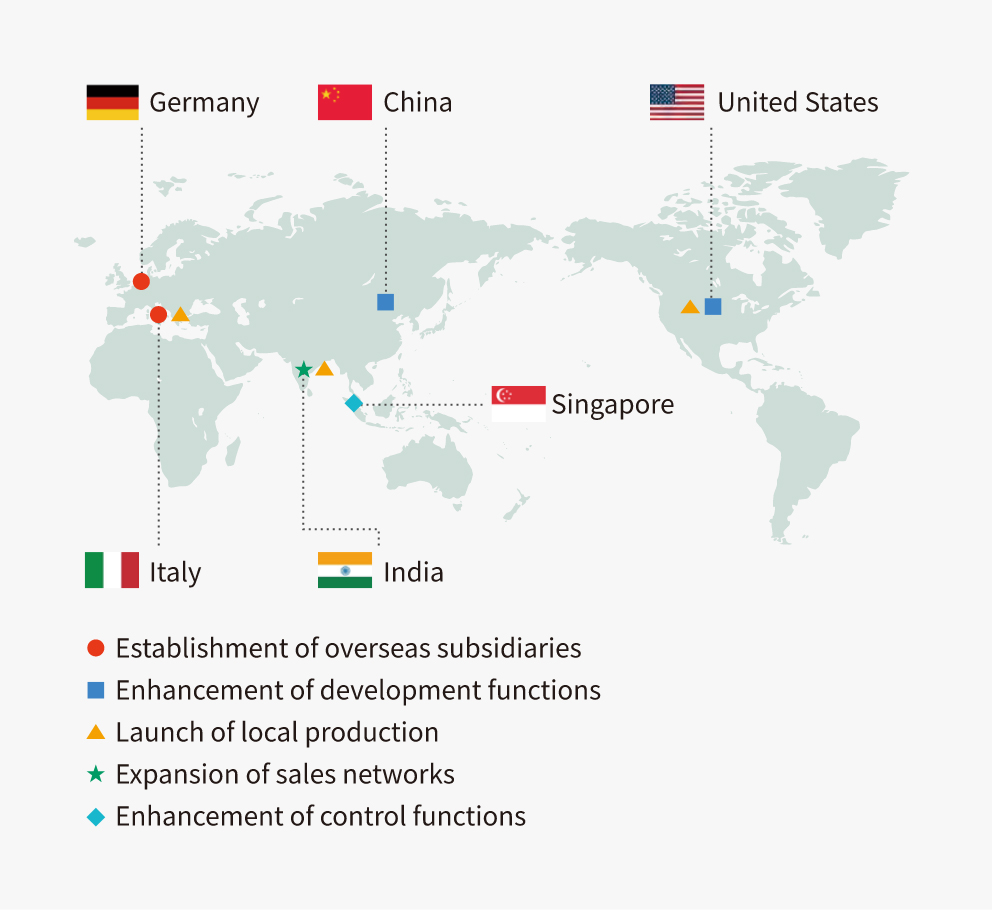 Strengthening of business foundations
Under the previous medium-term management plan, we have pursued the reinforcement of production capacity and the enhancement of sales networks, with a focus on East Asia and the ASEAN region.
Under the new medium-term management plan, we will enhance locally-led development functions in China and the United States and launch local production in India and Italy. We will also establish overseas subsidiaries in Germany and Italy to reinforce our sales foundations.
To improve productivity, we will promote automation and IoT to strengthen production systems that do not rely on manpower. We will leverage the newly introduced ERP software system with the aim of Click here for details systematic production activities. Further, we will actively bring digital technologies such as ICT and AI on board to improve work efficiency.