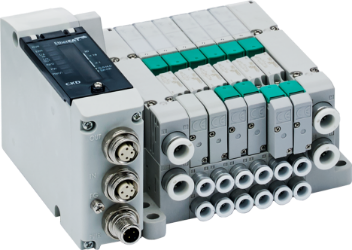 Pilot operated 3, 5-port solenoid valve
Plug-in-type block manifolds

Carbon-Neutral × High Reliability × Easy-to-use
The plug-in valve TVG Series is a pilot operated 3, 5-port valve for pneumatic applications that combines energy saving, reliability and ease of use. Starting with air operated valve drive, cylinders up to ø80 can be operated. Long service life and further energy savings contribute to the customers' productivity improvements.

Before use, be sure to understand and follow the contents of CKD's user's manual for this product.
We respond to the following issues and requests for pneumatic valves
01.

"Air leakage" was thoroughly considered.

Actually, external air leakage may occur just by pressurizing compressed air. Thoroughly address air leaks in pneumatic valves, which contribute to CO2 reduction by maintaining energy savings even when used for long periods of time.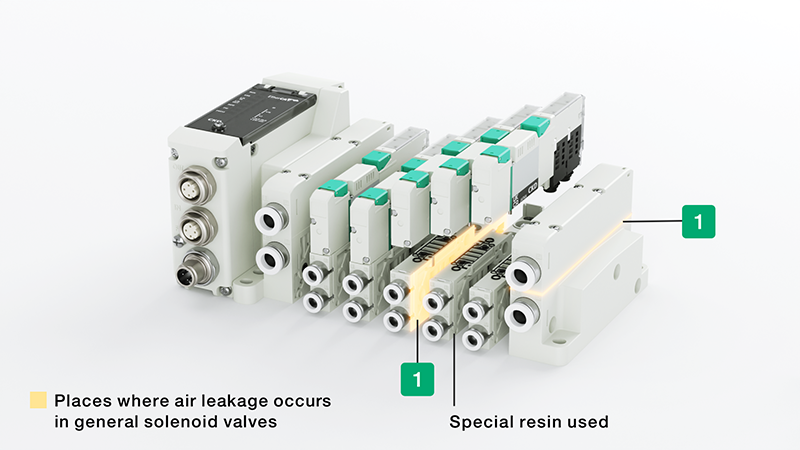 Causes of Air Leakage
Rigidity of the resin material deteriorates due to water adherence during use and atmospheric moisture, including during transportation and storage.
Commitment to TVG
Air leakage is reduced with sealing design and a special material resistant to aging.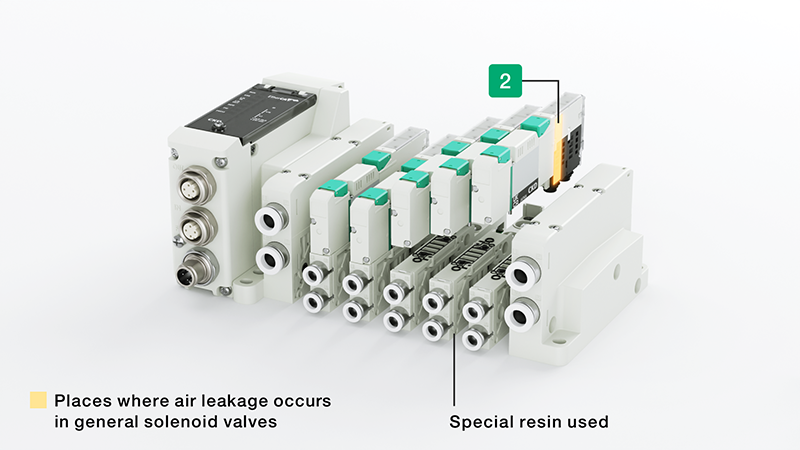 Causes of Air Leakage
Coil heat generation and changes in ambient temperature repeatedly cause thermal stress, which lowers the rigidity of the resin material.
Commitment to TVG
Coil temperature rise is reduced. Air leakage is reduced with sealing design and a special material resistant to aging.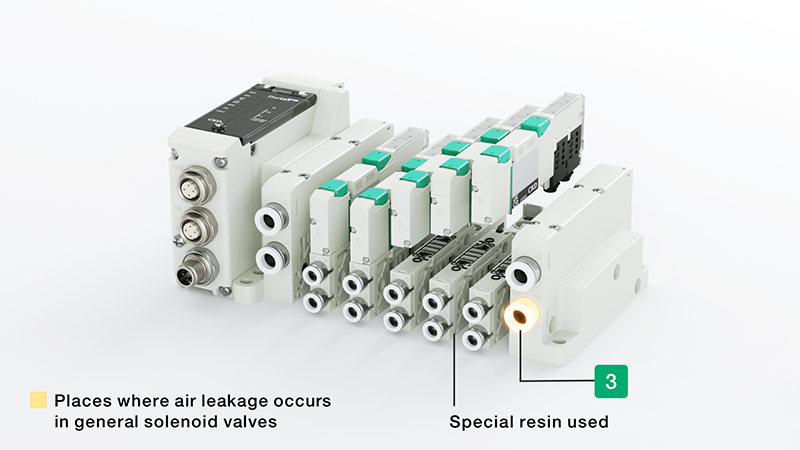 Causes of Air Leakage
Wear of the spool packing causes supply air to flow into the exhaust port.
Commitment to TVG
Special treatment of spool packing and body inner surface reduces wear.
02.

A reliable partner for pneumatics that combines stability and long service life.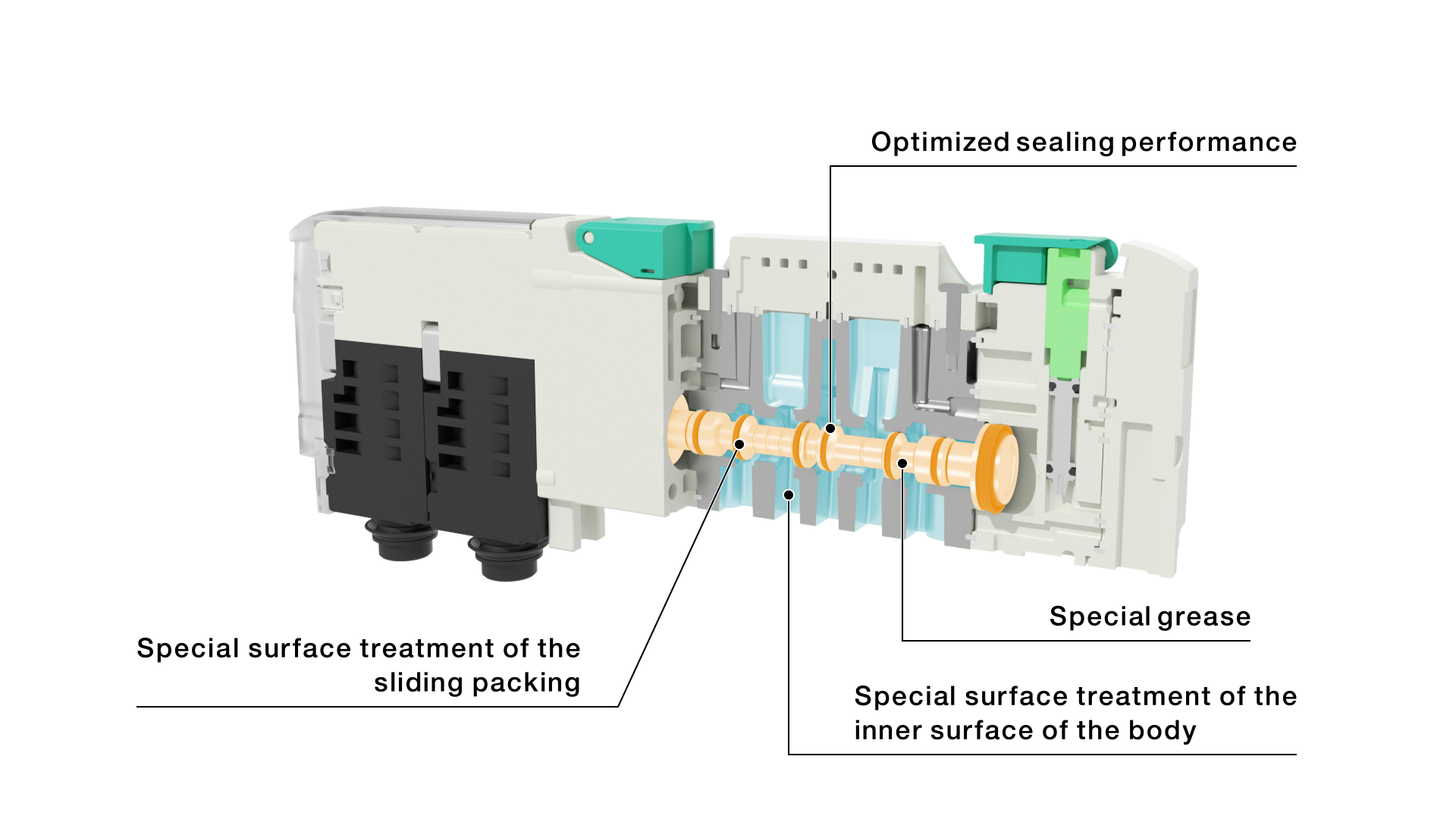 The sliding functions of the main valve are optimized by using a special grease that continues the lubrication effect even in ultra dry air, realizing low friction and long service life. Elastic seal durability of 120 million cycles or more (twice or more compared to conventional products), improved responsivity when left unattended, thus effective in preventing unexplained stoppages.
The TVG Series contributes to increased productivity with high reliability and long service life in equipment that never stops.
Compared to durability of existing models

TVG Series
TVG Series
120 million cycles or more
W4G Series
W4G Series
TVG Series has


twice the durability!

4T Series
(Discontinued product)
4T Series (Discontinued product)
TVG Series has


6 times the durability!
*Subject to CKD prescribed conditions
03.

Easy to use, easy to maintain and assemble.

With a plug-in structure that offers the ultimate in workability, wiring is completed simply by plugging it in,
and assembly is stable without any parts falling off.
Improved environmental performance
The coil has a resin-molded exterior to improve corrosion resistance and prevent rust. The IP65/IP67 (dust-proof, jet-proof) design is tough even in dusty or water-exposed environments.

04.

Uses advanced communication technology.
Move to a smarter factory and increase productivity.

A wide range of communication support reduces wiring work-hours and promotes IoT in factories. The industry's first valve compatible with IO-Link Wireless. IO-Link Wireless master allows for wireless connection of solenoid valves with PLCs of various communications.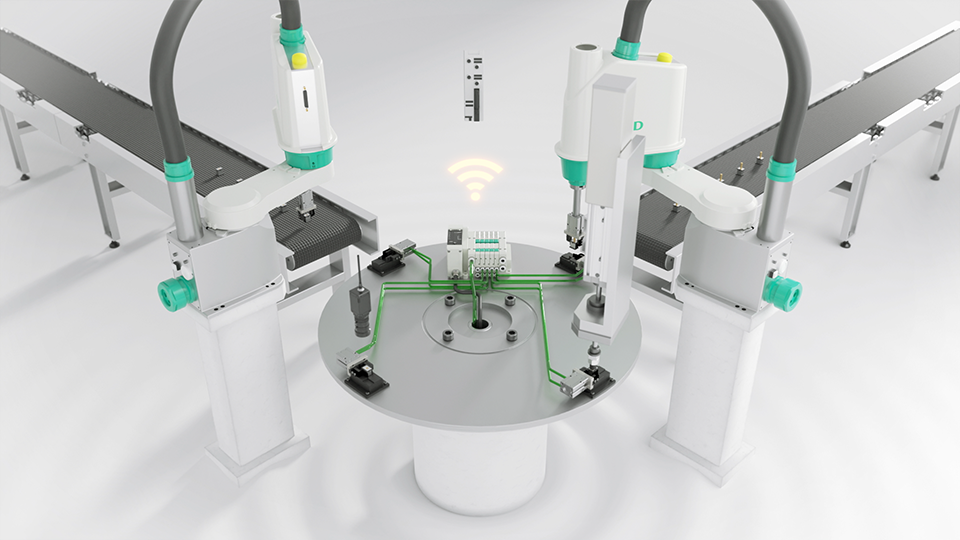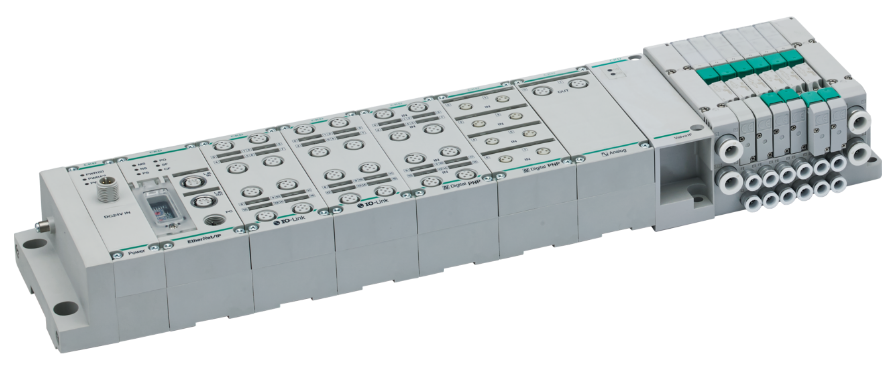 Remote I/O RT Series
To further promote IoT, we recommend linking with CKD's Remote I/O!
The plug-in valve TVG Series can be connected to the CKD remote I/O RT Series. Remote I/O is a waterproof unit compatible with digital I/O, analog I/O and IO-Link master. Diagnosis information (overcurrent, short-circuit, error, etc.) can be acquired, contributing to the IoT of equipment.
Before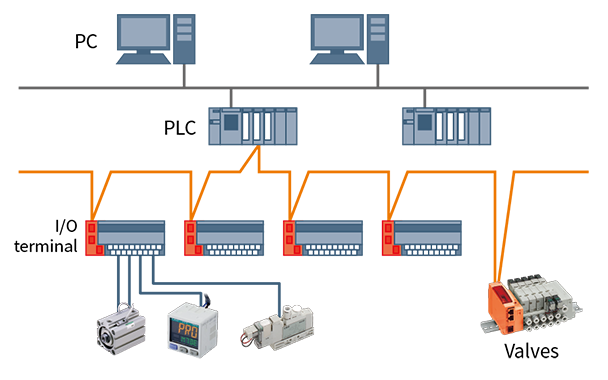 After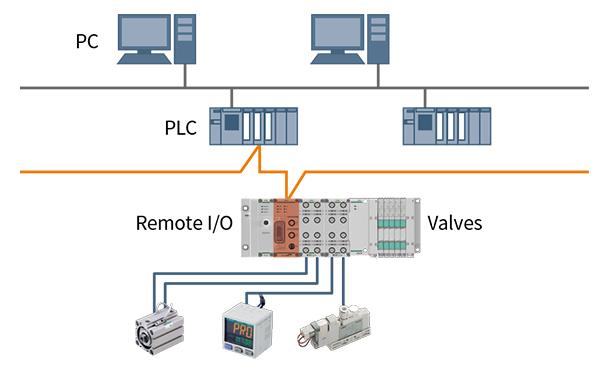 Click here for Remote I/O RT Series details
Four developers talk about their commitment to developing the TVG Series
The most advanced pneumatic valve TVG Series that makes use of the know-how accumulated since the 1950s. Here are the thoughts and commitments of the four developers that went into the development of the TVG Series. "Carbon neutral," "productivity improvement," "labor shortage," and so on... These products were developed with thorough consideration of how pneumatic valves can contribute to solving our customers' problems.
Developer Interview Video(5:53)
Case Study
We introduce Case Studies of the plug-in valve TVG Series in various situations.
CASE1
Small assembling device
Problem Unexplained stoppages occur in small assembly devices
In the small assembly device, the cycle time is short and the working Component must have a long service life. Accurate operation is required for stable operation, and equipment may experience frequent stops due to valve response delays.
After installation Long service life and improved responsivity, while preventing unexplained stoppages.
The TVG Series is effective for preventing unexplained stoppages, thanks to the improved durability and responsivity of the elastic body seal of 120 million cycles or more.