Nitrogen produced from compressed air helps reduce food loss
Nitrogen Gas Extraction Unit
It's so easy! Nitrogen gas can be extracted easily from compressed air.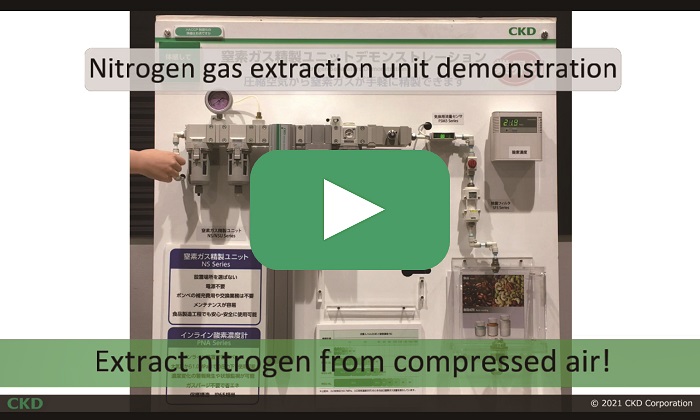 If you have this problem
Problem 01

How to prevent the oxidative degradation of food?

Problem 02

Gas tanks are hard to manage, replace, and replenish your inventory!

Problem 03

Nitrogen concentration and flow rate management!
To solve the problems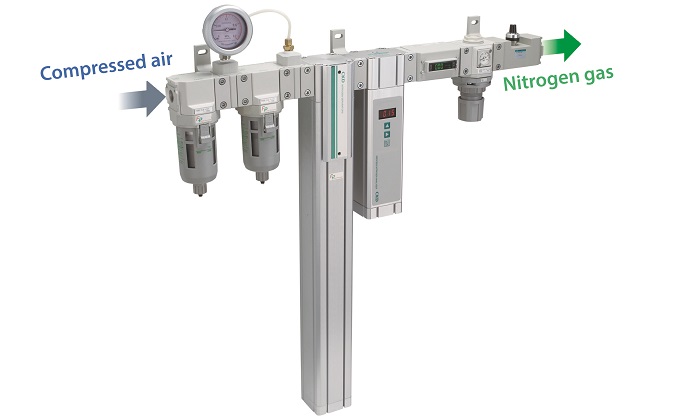 Prevents oxidation using nitrogen
●Easily extracts nitrogen from compressed air
●Easy connection by simply attaching the tube
●Can be installed near equipment and nitrogen concentration starts up quickly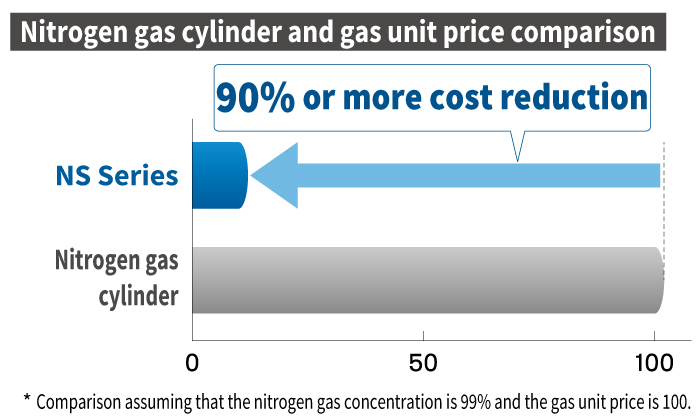 Tank-free operation reduces costs significantly
●The only required maintenance cost is electricity for the air compressor
●Troublesome tank management of remaining gas, or replacement work is not required
●Not subject to the High Pressure Gas Safety Laws. No applications or assignment of qualified personnel required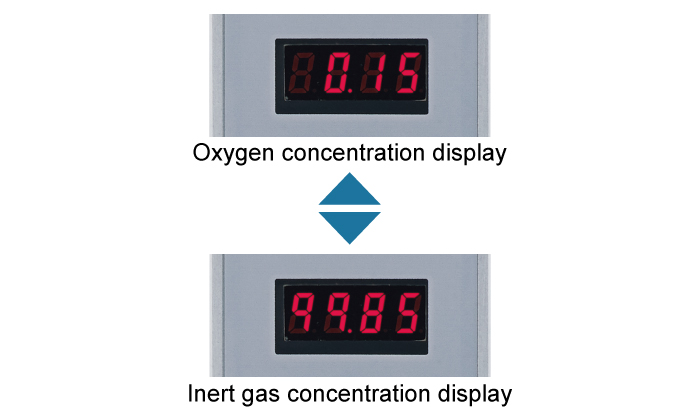 Concentration control is possible with Oxygen Monitor
●Oxygen or nitrogen concentration can be seen at a glance, and display switching is also possible
●Alarms can be set for concentration changes, and status monitoring is possible
●Can be used inline from atmospheric pressure to 1.0 MPa
Video content
Nitrogen Gas Extraction Unit NS Series
Frequently Asked Questions
How much nitrogen can be extracted?

Inlet varies with air pressure, air temperature, and outlet flow rate, but can be up to 99.9% depending on conditions.

How can I install and replace parts?

The modular design makes it easy to attach and remove parts while being piped. As for the piping, just insert the air tubes, saving labor and piping materials.

Is an application for a permit or a qualified person required to do the labor?

The nitrogen gas extraction unit is not subject to the High Pressure Gas Safety Laws. As there are no moving parts, the operation is quiet and no heat is generated from the main body, which does not affect the working environment.
×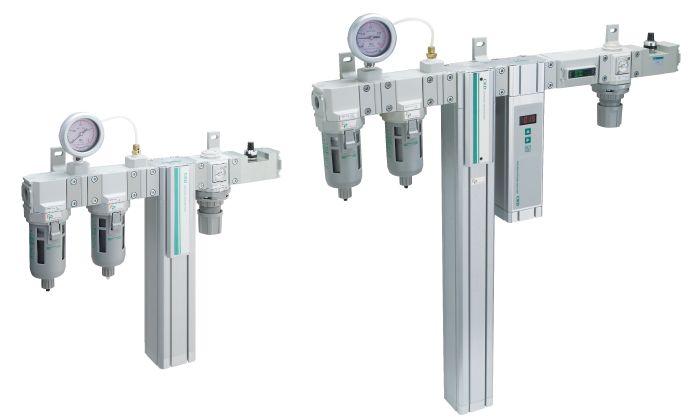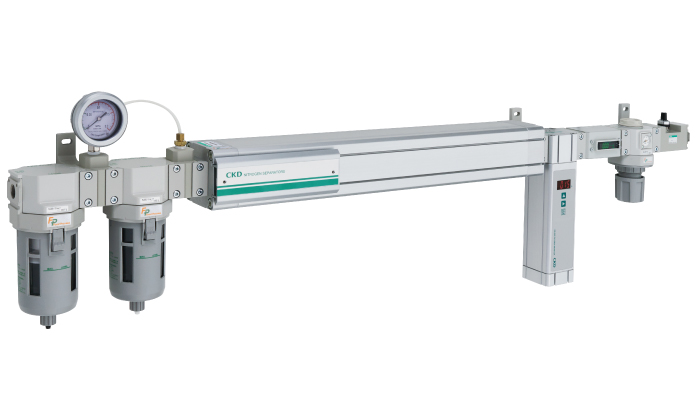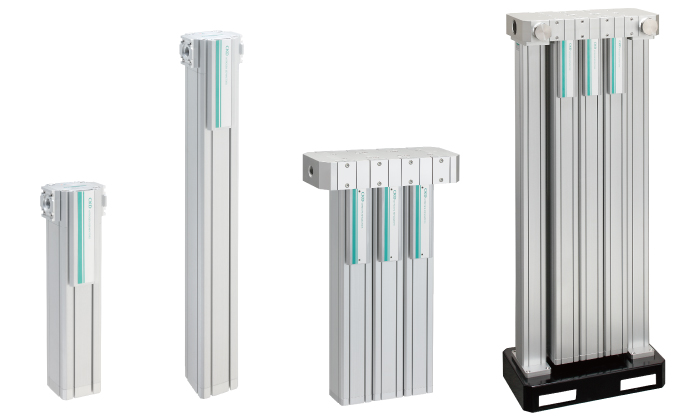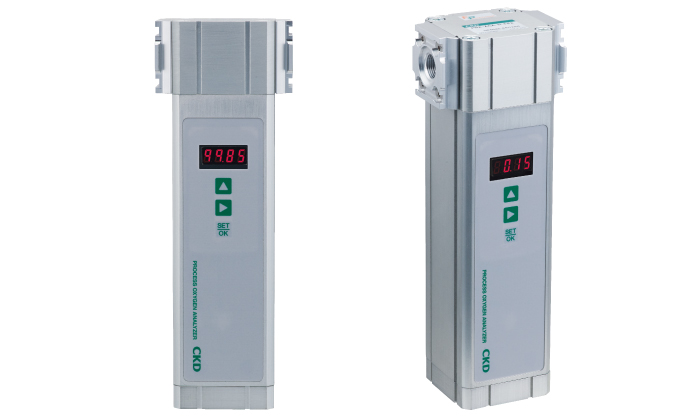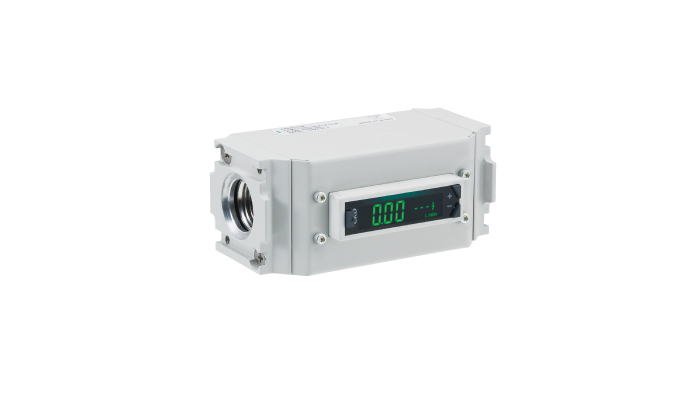 ×
Nitrogen produced from compressed air helps reduce food loss
×
Nitrogen Gas Extraction Unit NS Series