PowerArm assists in work style reforms
at sites with seasonal changes
Inaba Denki Sangyo Co., Ltd. is engaged in a wide range of businesses, including sales of electrical construction materials, industrial equipment and manufacture of air conditioning related components. The company's Ibaraki plant manufactures coated copper tubing used for home air conditioner piping, and it can be as heavy as 30kg. Therefore, it is difficult to load finished products on pallets manually. Nevertheless, since the production volume varies greatly depending on the season, it is impractical to automate this work by introducing a collaborative robot or the like, considering the cost. That's why our human assist product "PowerArm" was adopted.
Human Assist Products Selected
by Industrial Robot Professionals
The Ibaraki Factory of Inaba Electric Industry is located in Chikusei City, Ibaraki Prefecture. This factory is responsible for the production of air conditioning piping components and logistics north of the Kanto region.
Specifically, coated copper tubing is used for the piping of home air conditioners, and this copper tubing is heavy and can weigh up to 30 kg. During the busy season, 250 to 300 cases of products must be loaded on pallets per day for shipments. However, those who are loading/unloading these products are doing so very lightly. Sometimes we see both genders of any age because our PowerArm has made this lifting possible.
In addition, Inaba Denki Sangyo manufactures and sells air-conditioning-related components, fire prevention materials, and water supply system components. They also develop electrical material and industrial equipment businesses. The equipment business also handles, indicating how highly our PowerArm was evaluated by a customer that handles industrial robots.
Why did you introduce assist devices
instead of collaborative robots?
"Originally, air conditioning systems to the north of Kanto were shipped from the Fukuoka plant in Ogori City, Fukuoka Prefecture. However, in order to deliver products to our customers through a shorter lead time, we decided to ship products from the Ibaraki factory, and we decided to launch a new manufacturing line. However, the Ibaraki Factory is smaller than other factories having only 25 people, and requires some consideration to load/ unload products. That is why we decided to introduce human-assisted products so that people of all ages and gender could maintain the line."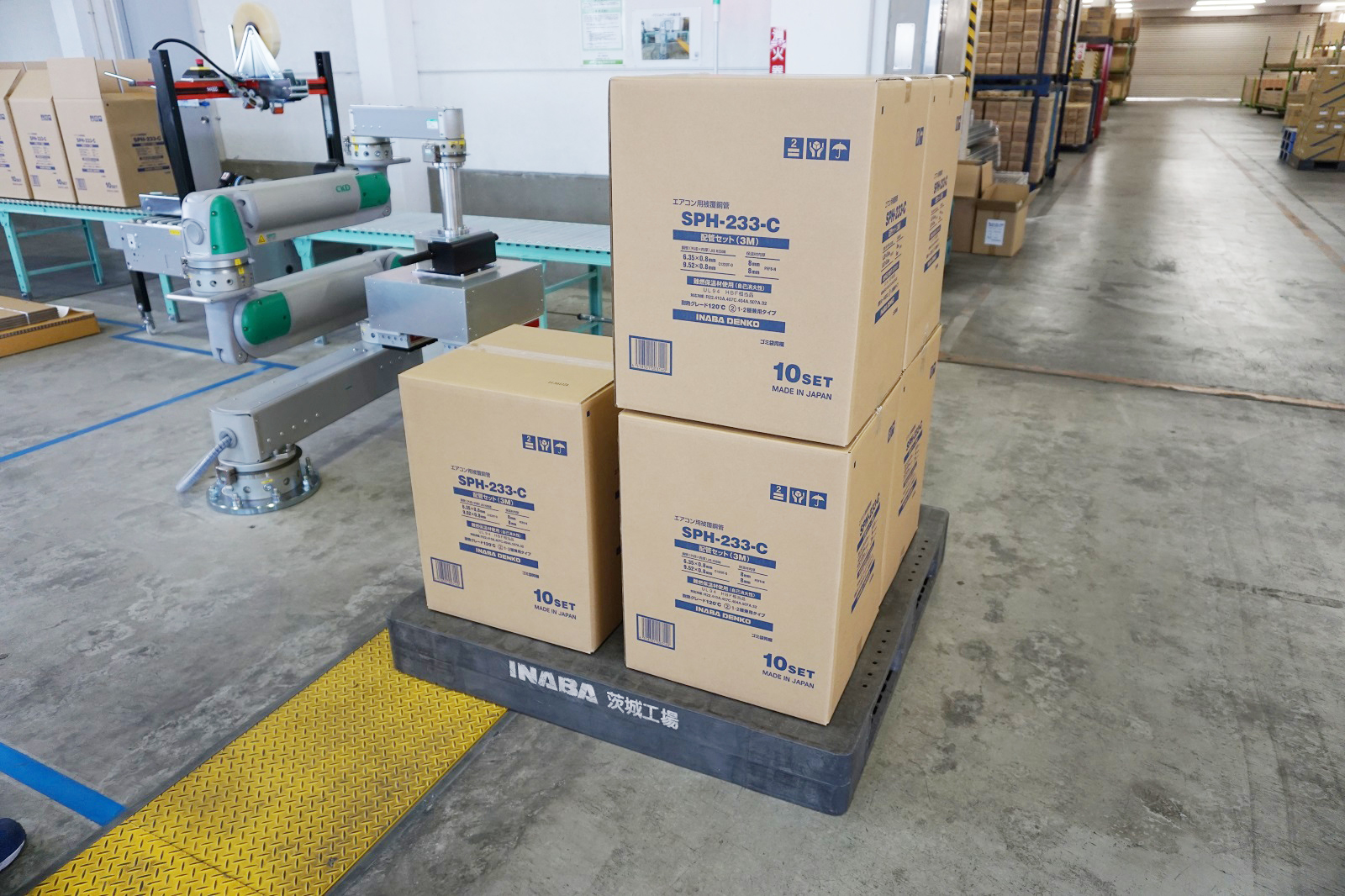 The company's staff looked back onto the reasons for introducing the PowerArm.
Naturally, manual labor work can only be performed by those who can handle it. As a result, it is easy to imagine that the same people will continue to work in the same process, especially during peak periods, which will cause a heavy burden on their bodies. If fatigue accumulates, it could lead to work-related accidents. That is why reducing the burden of loading/ unloading work was an issue that this company could not leave alone.
But why was the introduction of a human assist device the solution?
"One was that we wanted to make effective use of space. If we used a collaborative robot, we would have sacrificed space that we wouldn't be able to access to ensure safety. Work also fluctuates significantly from season to season, and so adopting collaborative robots was not realistic given the cost-effectiveness. "
In other words, Human Assist products offer solutions that can meet all needs, such as saving cost and space, as well as reducing the workload.
Highly evaluated for its potential for expanding applications,
in addition to functionality and safety
And among the many Human Assist products out there, the PowerArm was chosen because "It can fold compactly on the floor, near the installation surface, and due to safety as there are no gaps where finger could get caught in the joints and pinched. That was the decisive factor, but the comments of those who actually work with it was exceptional. That is, "The work has become easier. Since the device operates from the floor up, I can work without having to worry about the safety of the space above me. As this product is handled semi-automatically by humans, fine details such as the prevention of pinching and misoperation have been given, it can be used with peace of mind."
"The PowerArm introduced for loading / unloading products has also been found to be effective in supporting, holding, and hanging objects when actually used. Depending on the attachment, perhaps you have noticed a lot of use case studies from other companies, and so I'd like CKD to teach you many examples. We are considering whether there are any other issues that can be solved with the PowerArm among those that we have. I am also attracted to ideas that expand my potential to grow.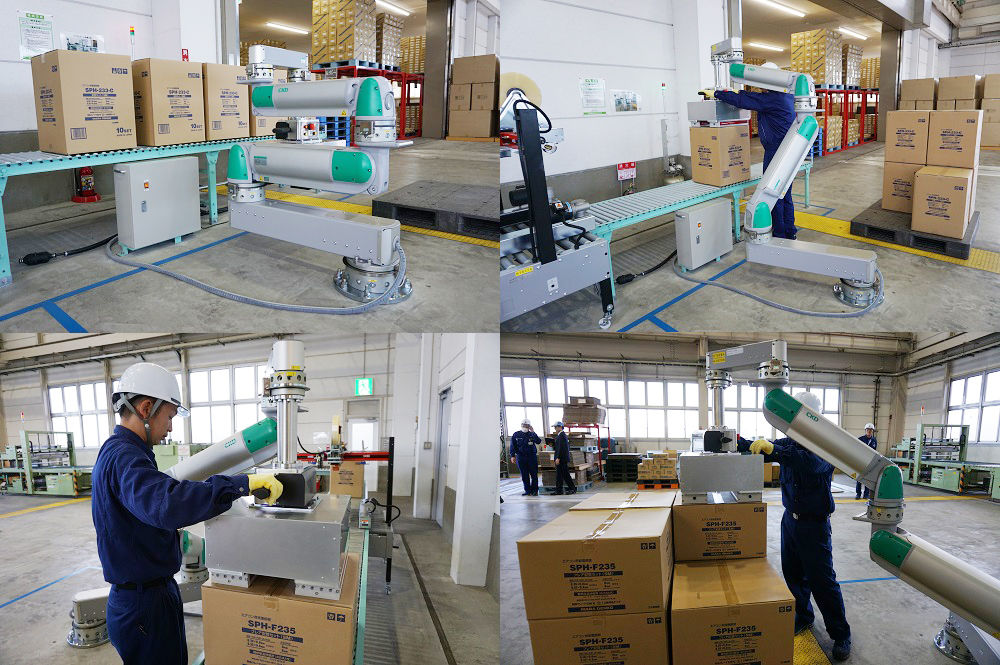 Inaba Denki Sangyo preparing products for shipment using the PowerArm
Regardless of the industry, in some factories the frequency of work is not so high as to introduce automated equipment, but there are many cases where laborious work is required. However, if we look at the overall work efficiency of the factory as a whole, this kind of heavy work niche often hinders overall efficiency improvements. Mr. Ichitaka says, "I want to make the workplace where everyone can work happily," by changing the hard work that remains at the worksite to something that is safe and less burdensome. We are confident that powerful arms can help you solve these challenges in the workplace. Mr. Ichitaka comments, "I want to make the workplace where everyone can work happily," by changing the hard work that exist at worksites into something that is safe and less burdensome. We are confident that the PowerArm can help solve these challenges in the workplace.
Workers are comfortable――
Realizing a truly safe working environment
Inaba Denki Sangyo has been working on improving the safe working environment by concentrating not only on machine safety, but also on preventing dropping. We intend to take such measures one step further in the future.
"In the past, occupational accidents were mostly accidents involving machines, but with the improvement of machines, such accidents have decreased. In recent years, building a comfortable working environment has increased the need for increased safety, and our company will continue to reduce the physical burden of unseen fatigue and work."
In addition, the effect of introducing the PowerArm is not only a direct action to reducing work load and improving work efficiency. By creating an environment in which anyone can engage in hard work, regardless of gender or physical strength, is also important in promoting diversity. This initiative has become a successful example of work style reform, and a company-wide mindset of "improving here and there" is emerging. It seemed to act as a catalyst to further accelerate the work style reform of Inaba Denki Sangyo.